Casey Burchill, DPM FACFAS
Located in Las Vegas, NV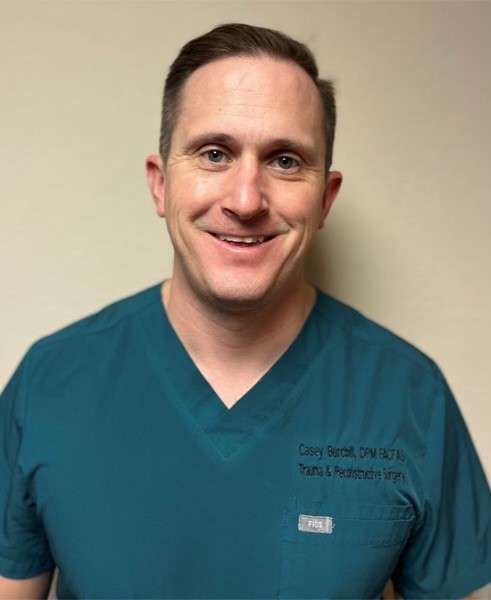 Dr. Burchill received his bachelors of science from Arizona State University. As a scholarship student-athlete in track and field, he became the second fastest Sun Devil of all time in the 10,000 meter. The time qualified him for the 2008 US Olympic Track and Field Trials. After sustaining a season ending injury and surgery to his foot, his career as an athlete was over but his path to podiatric surgery had just begun.

Dr. Burchill attended Rosalind Franklin School of Medicine and Science in Chicago, IL. From there, he was accepted to the prestigious foot and ankle surgical training residency at Emory University in Decatur, GA. The Emory program (previously The Doctors Hospital, Northlake and Dekalb Medical) was the first three year surgical residency for podiatrists. Since its inception in 1969, the program has been recognized as the premier training residency for foot and ankle reconstructive surgery. The program, now a division of the Emory University Department of Orthopedics, serves as an international tertiary referral center for complex foot, ankle, and leg deformities. Now in its 5th edition, the program is responsible for the leading Foot and Ankle Surgery textbook, McGlamry's Comprehensive Textbook of Foot and Ankle Surgery. Emory Podiatric Residency Program Graduating as chief resident, Dr. Burchill became a faculty member of the residency's educational arm, The Podiatry Institute. As a faculty member, Dr. Burchill actively lectures across the country as well as serves as an instructor for surgical skills courses, teaching other podiatric surgeons. He is dual board certified in both foot and ankle surgery as well as complex rearfoot and ankle reconstructive and trauma by the American Board of Foot and Ankle Surgery. He is one of few in the state of Nevada to hold both certifications. ABFAS

Dr. Burchill enjoys spending time with his wife and three children. They enjoy traveling and the outdoors.