Nathan Isaac Richards, D.O.
Located in Las Vegas, NV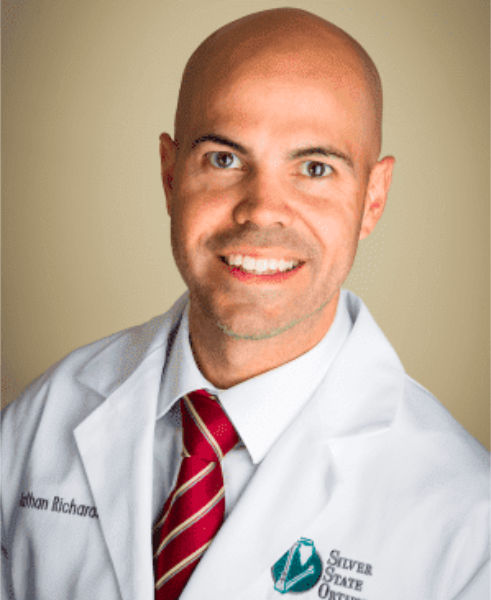 Dr. Richards received his Bachelor of Arts in Anthropology from Brigham Young University in Provo, Utah and earned his Doctor of Osteopathic Medicine at Touro University Nevada – School of Osteopathic Medicine in Henderson, Nevada. He completed his residency in orthopedic surgery at Genesys Regional Medical Center in Grand Blanc, Michigan, affiliated with Michigan State University. He was named Chief Orthopedic Resident during the program. He then participated in a prestigious ACGME-accredited orthopedic sports medicine fellowship at the Detroit Medical Center, in Detroit, Michigan. During his fellowship, he had the opportunity to participate in team coverage for the Detroit Red Wings and the Detroit Tigers. He also had many opportunities to cover various sporting events around southeast Michigan, including the Detroit Marathon, the Detroit Gran Prix, the Michigan Bucks soccer club as well as other college and high school sports. In addition to caring for athletes, Dr. Richards received advanced training in orthopedic surgeries for the general public. He is board eligible with the American Osteopathic Board of Orthopedic Surgeons. Having completed his medical training in Henderson, Nevada, Dr. Richards felt a strong desire to return and make Las Vegas his permanent home. Dr. Richards grew up participating in countless sporting activities and has a strong desire to help others maintain or return to a high level of physical activity, no matter the age. His practice focuses on joint preservation techniques, cartilage and biologic augmentation, arthroscopic and minimally-invasive treatments. In his free time, Dr. Richards enjoys spending time and exploring the outdoors with his son as well as playing soccer, basketball, volleyball, tennis, mountain biking, and snowboarding. He also enjoys watching/attending all sorts of sporting events and cheers for The Ohio State Buckeyes, Cincinnati Reds and Cincinnati Bengals.


Specialties
Orthopedics, Sports Medicine, Surgical
Clinical Interests
Arthroscopy and Minimally Invasive Treatments, Hip/Knee/Shoulder/Elbow Arthroscopy, Total Hip Replacement, Total Knee Replacement, Ligament Repair and Reconstruction, Joint Preservation, Biologic Joint Reconstruction, Total Shoulder and Reverse Shoulder Replacement, Orthopedic Trauma/Injuries
Services
Arthroscopy and minimally invasive procedures, Arthroscopic revision procedures, Cartilage and Meniscus Repair, Complex Hip Arthroscopy, Complex Rotator Cuff Injury, Elbow Arthroscopy, Elbow Ligament Repair, Hip Arthroscopy / Joint Preservation / Biologic Joint Reconstruction, Knee Arthroscopy, Knee ligament repair including multi-ligament injury, Orthopedic Trauma, Pediatric / Adolescent knee ligament injuries, Pediatric and Adolescent Hip Joint Preservation / Deformity Correction, Shoulder Arthroscopy / Biologic Joint Reconstruction, Total Shoulder and Reverse Shoulder Replacement, Total Hip and Total Knee Replacement

Language(s)
English, Finnish